100% Volunteer-run. 100% of your Donation go to Campaigns.*
(*minus applicable payment processing fees charged by GoFundMe, PayPal or Venmo)
Current Projects: We Can't Do It Without You!
Students in El Rodeito, grades 7-12, currently meet once a week at the church for classes, since there is no high school. Construction of the first classroom will begin once we reach $15,000 of our $27,130 goal. To donate online use Paypal: Venmo@mayorpotencial
Or, to donate by check: Mayor Potencial, P.O.Box 102, Marathon NY 13803 (High School Campaign)
Amount raised: $12,051 of the $27,130 goal!
Mayor Potencial has been working hard over the years to fundraise to build a high school in the small rural village of El Rodeito. Currently, there exists only a primary School, and the nearest high school is over an hour and a half walk away through the rocky and steep mountains of Honduras. Because of the difficulty to access a higher education, many students do not have the opportunity to go to high school. Thus, they are not able to achieve their greatest potential.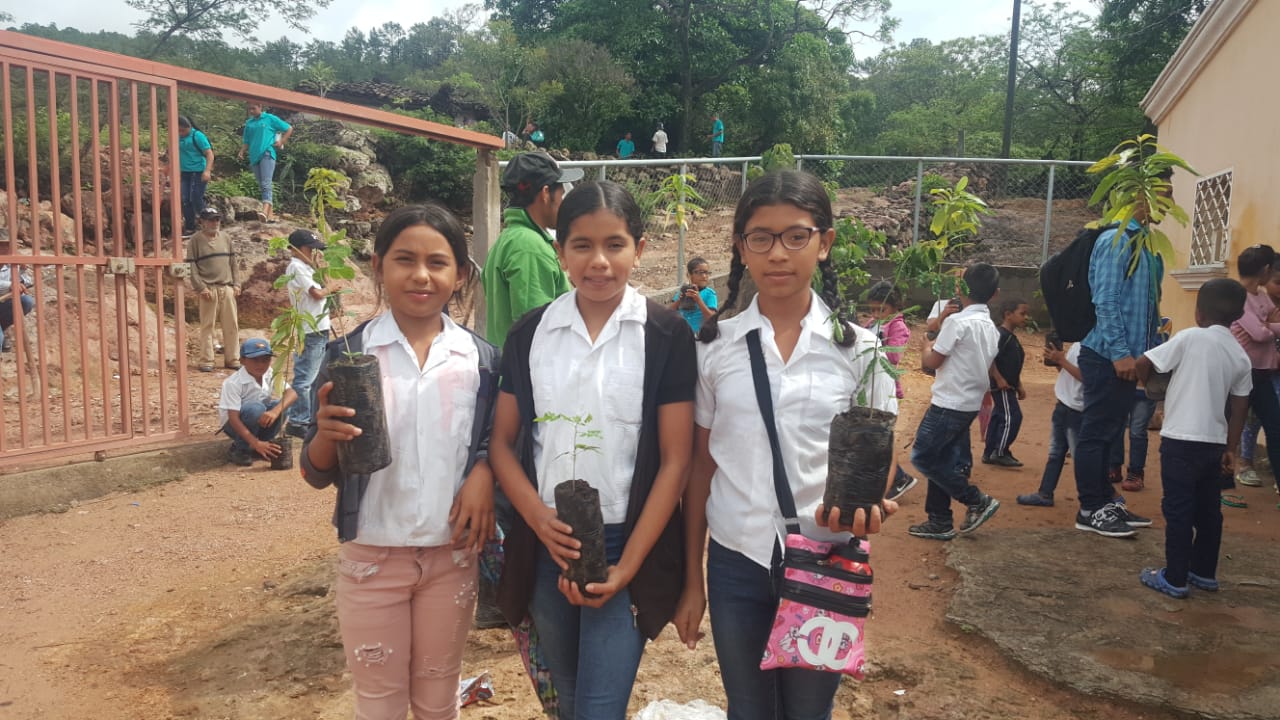 Raices, Arboles y Educacion
*Compliments our Build A High School Campaign. This is a GoFundMe campaign
*Planting fruit trees for extra nutrition, and to prevent erosion around water source. *Pesticide education for the community. *Start-up funds to help build the high school. Amount raised: $275 of $1000 goal
To read more, please go here.
In order to receive an education, students in El Rodeito are required to wear school uniforms. You can help us to provide the uniforms and shoes for 13 students in need. The school year goes from February to March. We need to act fast to ensure these children can continue their education! This is a GoFundMe campaign. To read more, please go here.
Amount raised: $35 of the $401 goal
Until the High School is constructed, we will be providing school meals for the 35 students in grades 7-12, as they attend school once a week.
$127/month will pay for food for the 35 students. Our goal is to provide food for the next 5 months. This is a GoFundMe campaign. To read more, please go here.
Amount raised: $35 of the $762 goal
Sadly, one of our dear Honduran friends, 19 year old Arnol Valle, passed away in March, after battling terminal brain cancer for many years. Mayor Potencial was able to help Arnol pursue treatment. The family is deeply grateful for all of the support. However, as they continue to grieve, they are also facing the last of his medical bills. This is a GoFundMe campaign. To read Arnol's story, please go here.
Amount raised: $4,804 of the $6,449 goal
This is the second year that MP has partnered with Cape Cares to provide dental and medical care to the community of El Rodeito and nearby areas. The dental clinic was set up for three days in February, at the current Elementary School, Ramon Rosa, to do cleanings and extractions.
The medical brigade was set up in Los Encinitos. Hondurans from 44 surrounding villages, or 707 patients, received care over four days!
100%* of your donation to Mayor Potencial goes to children in Honduras, enabling them to look forward to greater opportunities and a thriving future.
*There is a small service charge when donating through GoFundMe and PayPal.